Camouflage Military Uniform Clothes Suits Men Army Clothes Airsoft Hunting Suit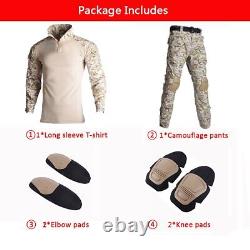 Adjustable Hook and loop fastener Cuffs 2. Super elastic, super soft fabric, breathable and comfortable 3.2 Hook and loop fastener arm bags 4. Durable top quality zipper, smooth and wear-resistant.
Extra Thicken Elbow Pad, More thick and wearable. Totally 10 pockets, 4 oversized pockets 2. Adjustable Hook and loop fastener at trousers bottom and knees 3. Abrasion-resistant material, quick-drying and easy to clean 4. Extra Thicken Knee Pad, More thick and wearable.
Tactical Camouflage Ghillie Suit (Shirt + Pants). S / M / L / XL / XXL / XXXL.
Black / Black Python / Green Python / Tan Python / Desert Digital / Jungle Digital / CP /. Tactical Hunting / Military Airsoft Paintball / War Game / Army Training.. Dear Customer, If your Shirt size is different with the pants size, Please do not worry. For example, your shirt size is XL and your pants size is L, please choose size XL when you make order, and remember.
Tell me your correct size, Just like"I want shirt size XL and pants size L". Then I will send the right size to you. 1x Shirt + 1x Pants + 4x Knee Elbow Pads.